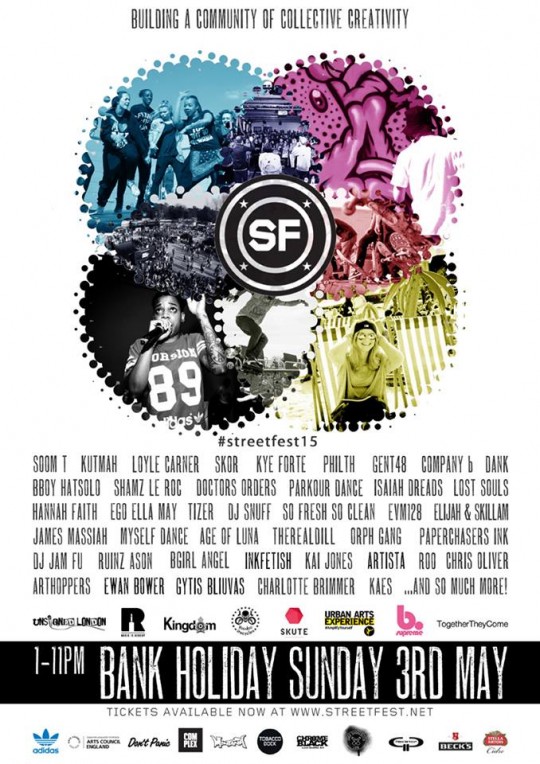 Yes peoples it is one month until the May bank Holiday weekend and once again Music is Remedy are proud to host the Unsigned London stage. Over the past 4 years we have had a diverse range of acts with the likes of Hollie McNish, Mikall Pane, Shakka, Dionne Reid, Tawiah, James Massiah and DivaGeek all joining us and giving incredible performances. This Year we have once again pulled together an incredible range of acts that do represent what it is Music is Remedy is all about good music.
Headlining this year will be one of the most hyped talked about collectives around at Present. The Mighty ORPH Gang will be closing the stage with 50 minute set of hype, quality and brilliance that if we had a roof would have been blazed alight! Also on the day there will be performances from Julie Iwheta, Cara Winter, Kai Jones, Ruinz Ason to name a few.
The full line up is below and as well as all that there will be all the other goodness associated with Streetfest from BMX and Skateboard displays to dance crews to amazing food and DJs. It will not be one to be missed. Tickets are available NOW HERE get your hands on them and come join us!
For more info contact music_is_remedy@yahoo.co.uk
Unexpected Guests
Bre Musiq
ScruLove
Triple O
Julie Iwheta
Sean Colwill
Lars Koehoorn
Kemi Aneke
Cara Winter
Kai Jones
Charlotte Brimner
Ruinz Ason
Orph Gang