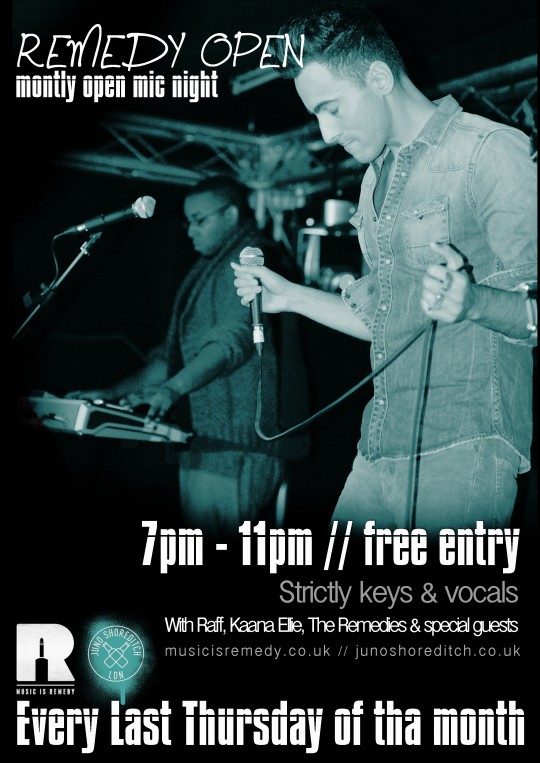 Music is Remedy are returning to the live circuit with a new monthly night called Remedy Open our first ever open Mic Night. Taking over The Juno Bar Shoreditch every last Thursday of the month we will be inviting singers, rappers and poets to take to the mic and perform for our audience of music lovers.
Our night will have a unique twist as the only musical accompaniment will be the piano. No CD's backing tracks or Guitars straight keys and vocals. Keys man for the brilliant Remedies Linden will be on hand to jam with you and play your original track or cover. Alternatively you can bring your own keys player or just jump on go accapella its up to you.
Hosts and resident artists and Music is Remedy Familia Raff and also returning to the live scene Kaana Ellie will be on hand to set the standard and invite people on and off the stage whilst there will also be two feature artists performing every night.
For our launch we will be joined with the heavenly tones of scene favourite Greg Dwight and Spoken Word powerhouse Kareem Parkins Brown.
Its free all night in the heart of Shoreditch with happy hour 6 till 8 and a great selection of food available come straight after work and get your seat and enjoy.
All are welcome sign up from 7pm show starts at 8:30 pm. It's first come first serve and we can't promise to get through everyone so get there early to avoid disappointment!
For more info contact music_is_remedy@yahoo.co.uk
REACH