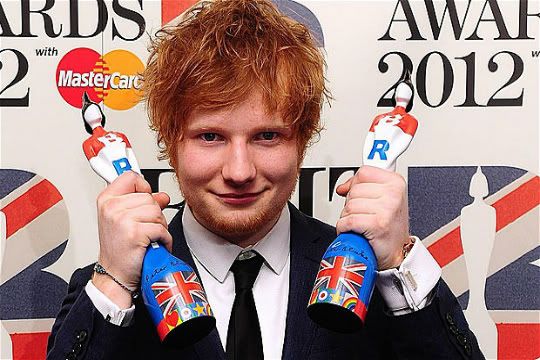 Awkwardly stylish came to mind whilst spectating the BRIT Awards 2012, celebrating the British Music Industry tonight (21st February 2012). It was almost as if a certain amount of "prestige" was trying to be portrayed which wasn't really there. James Corden who hosted the night was interrupted on two occasions whilst introducing acts; by artists in the audience walking across the screen. This did however create a little humour for the show and broke up the pretence of the show.
The main highlights of the night were UK's blazing hot solo artists of the moment Adele and Ed Sheeran both scooping two awards each tonight. The astounding Adele has already won 6 Grammys within the last two weeks and now has two BRIT Awards for both British Female Solo Artist and British Album of the Year to add to her mantelpiece which she proudly accepted with the words: "Nothing makes me prouder than coming home with six Grammys and then coming to the Brits and winning album of the year. I'm so proud to be British and to be flying the flag." She also went on to serenade the audience with a flawless performance of her number one single Rolling in The Deep. This is a proud moment for all of us as it is so refreshing to see UK talents shine in their rightful glory. Adele has soared to new heights and has had an amazing music career so far. We can only imagine what is coming next from the beautiful superstar. Adele we salute you, keep knocking those pillars down in this crazy music industry.
Watching Ed Sheeran perform at the BRIT Awards could not have been any more heart warming as he has performed with The Remedies on a number of occasions, including Ed taking part in a Remedy Live gig as well as featuring The Remedies on his Live at the Bedford CD/DVD. His epic performance of his hit single Lego House is definitely a moment that will go down in Remedy history. Ed most deservingly won British Male Solo Artist and British Breakthrough Act with an admirable modest acceptance speech; "I honestly didn't think I would get this one. I want to thank my family, the fans, every single promoter that has ever booked me, every single radio DJ that has ever played me and my label." Ed is nothing short of remarkable and we hope to see many more awards going his way. We are extremely proud and honoured to have had the pleasure of our live band The Remedies share a stage with the incredible man himself.
Other performances on the night included: Florence and the Machine, Olly Murs, Bruno Mars and Rihanna. Bruno Mars wowed the audience with his mesmerising vocals and smooth charm and delivered a top notch performance (as always).
What artists would you like to see at The BRIT Awards 2013? Leave your comments below