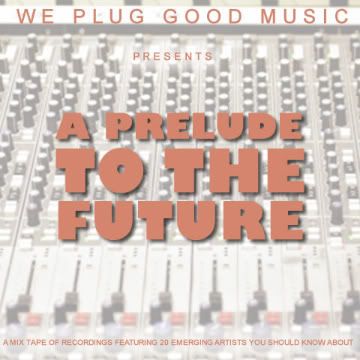 We Plug G.O.O.D Music launch their first compilation album today and I must say its quite a treat! If you don't know about the site and what they do I'll let them tell you…
Since February 2009, We Plug GOOD Music has consistently provided its online community with the very best emerging music from all around the world vis-a-vis plugging these emerging artists to a wider range of audiences via its' websites & online radio show as well as bringing quality live music to diverse audiences in and around London (UK) & Lagos (Nigeria) via their 'One Mic' showcases
"A Prelude To The Future" features 20 of the most promising up and coming artists from the UK, US & Africa, in the genre of Soul, R&B, Hip-Hop and Spoken Word that we've had the privilege of working with over the last year and a half.
So whats on there then… well a lot of artists currently working there way around the scene at the moment and a building a name for themselves are featured. One of the standout tracks comes from The Chordless Show featured AKS.
We Plug GOOD Music – AKS – Under The Influence by musicisremedy
This one is a real head bopper. Jesse P on production the track has a wicked beat, and the chord pattern is real nice setting a mellow yet kinda dark feel to the track. AKS flow is onpoint and he sounds great on the track talking about the thoughts that lead to and occur after drinking a little too much.
Also featured on the album is a track from G.R.E.E.D.S sampler series "Ready"
G.R.E.E.D.S – Ready by musicisremedy
This tune is one of the standout tracks from GREEDS Sampler 4 and is going down well at all his live shows at the moment. Banger of a tune and a statement of where he and to a certain extent the spoken word scene are at at this moment in time.
Also on the album find tracks from Christina, KI Project, Chockz, Zayna Daze and many more.
All in all a great compilation and a look at artists starting to breakthrough the scene at the moment whose names you'll be hearing next year. And a testament to all the fantastic work that the We Plug team are doing in the scene right about now. It's free to download so go on check it out, have a listen and get downloading NOW!!!
http://wepluggoodmusic.bandcamp.com