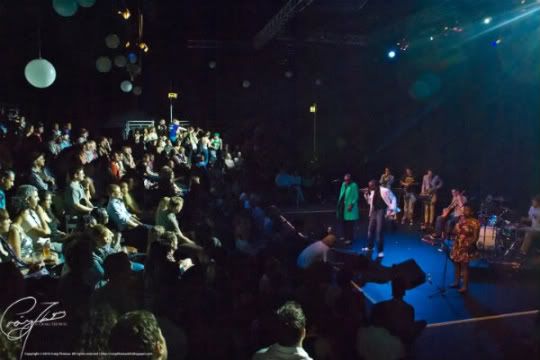 The Spoken Word/Poetry scene is on fire in London town. Long running events like One Taste and Poetry & Motion and Lyrical geniuses like David J and Polar Bear have helped a scene evolve and grow. Nurturing new wordsmiths, inspiring new events into life and allowing the genre to mix and play with its brothers HipHop and Soul. The emergence of nights like Writers Block, Rum Punch and Chill Pill and artists with hunger ambition and quality like G.R.E.E.D.S, Holly McNish and Deanna Rodger have pushed the artform to new heights and audiences.
Poejazzi is a night that has been at the forefront of this scene for sometime now. Their mission this year was to make 2010 The Year Of The Poet and they have been working hard to make that a reality. Already this year they've had shows at The Camden Crawl, Days of Decadence and Royal Festival to name a few. Last Thursday was the highlight of the year so far as they sold out The E4 Udderbelly on The Southbank providing a crowd of 400+ peeps an evening they wouldn't be forgetting anytime soon!
Lail Arid acted as host for the evening performing songs before introducing each act. She had a friendly, quirky nice style warming the crowd nicely and getting a smile out of everyone when she did her cover Salt & Pepper's "Lets Talk About Sex"… jokes!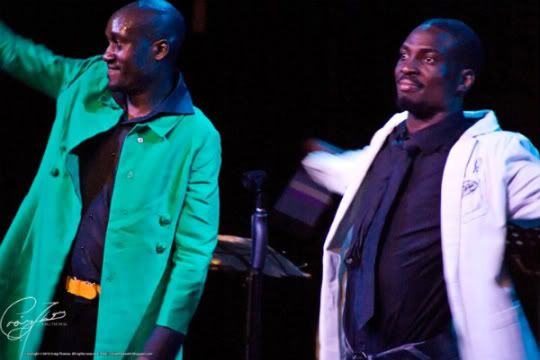 The show however really kicked off when organisers Josh and Musa hit the stage with their band Benin City. A mad mesh of Soul/Funk/Afrobeat provides a perfect backbeat for their lyrical tales of life in the capital and those that climb the ladder searching for happiness and the struggle of the creative minds searching for something else in life. The set was brilliant the horn Section brought it all to life whilst the Drums and Bass held it all together. Josh and Musa were on top form working all sides of the stage and crowd. Dancing and prancing around even fitting costume changes! Backing them immaculately on BVs was Belinda Zhawi. They set the tone for what was to come…

Second half of the show featured one of the scenes hero's. An artist who has grown with the scene and inspired many, his manipulation and delivery of words leaves me in a daze and awe of his skills. Inua Ellams as always did not disappoint. A genius and modern day Shakespeare his words left me looking at the homeless and stars on a different light completely.
Headlining the night Yungun kept the level of quality high and produced a set approving his headline status. The band brought colour and energy to his rhymes. Lyrically dude had a lot to say and delivered with intelligence and swagger building a great rapport with a crowd that probably knew little about him. His performance renewed my lost hope in UK HipHop leaving me feeling that there are quality artists out there with strong beats and serious song content, they just need a platform like the one Yungun was provided with that evening and boy did he make the most of it! I'm sure he gained more then just one new fan that night.
All in all it was quite an amazing night. Taking a spoken word out of a bar/ venue and into a fully seated sold out venue backed by E4…. now thats what i call pushing things FORWARD! Year of the Poet indeed… bravo!
All pictures taken by Craig Thomas