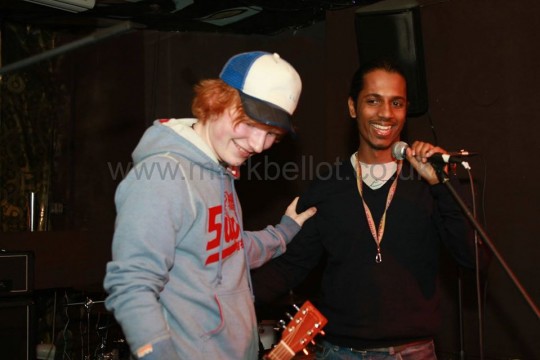 It must of been sometime in 08 when a friend and I went down to the Slaughtered Lamb ( love this venue) in Farringdon to watch our boy Jamie Woon play a gig. We came across this incredible support act. This ginger haired kid armed with a baseball cap, hoody, loop pedal and acoustic guitar he had the place rocking. It wasn't the easy quality of the songs, his voice or his undeniable charisma but it was this one cheeky line that got me:
"I will blast and I didn't go to BRIT school"
My friend was cracking up as she never went to BRIT (hater) but as a BRIT school alumni myself I more than raised an eyebrow but the way he idelivered it meant I couldn't not smile. He certainly came good on that statement. Talking to him afterwards he was even more likeable off stage and he happily accepted my invitation to come down to perform at our Remedy night in Camden. His name was Ed Sheeran. It turned out to be an epic night.
Now Music is Remedy events was and never had been a purely black audience. The music was/is always of a soulful hiphop rnb nature but it was never just a black thing despite it being a night on the black music circuit so to speak. Part of me was unsure how the crowd would take to this white kid rapping and talking about his "eyes being red" and "rasta man time". Chukie talked about this on a recent Halfcast and how he saw him set up at an event one time and thought it was not going to go down well at all (he was proven wrong). We were one of the first nights on the circuit to book him. The crowd didn't know him but as he took to the stage and performed his set by the end he had ripped the roof off of the bar the place went crazy for him.
As we moved into the new decade he agreed to headline a live band gig with The Remedies (The Music is Remedy houseband) backing him. It was a match made in Heaven. The energy on and off stage that night again was incredible and Ed and his songs with a full band sounded perfect. We became his go to band as he experimented with the sounds and was fortunate enough to perform with him on his Live At The Bedford EP. which was another very very special night. Our 8 minute or maybe 12 minutes rendition of "You need me" is probably one of my favourite memories performing on stage in my career and I still listen back to it today. We were on it that night. That song was what made him in those early days, now it doesn't get any play. It's irrelevant but if you knew about him then you knew about that song.
As the decade has gone he has shown he has hits for days. He was always a great songwriter keeping it simple and giving people something they could relate to.
The last time I saw him was backstage at Brixton Academy after he just rocked a sold out venue with just his guitar and loop pedal in 2013. He would go on to do far biggest stages with those same tools and even though he sounded great with the band he didn't need us. His stage presence and connection with the crowd along with ultimately his songs meant he didn't need anything else and so our journey together came to an end.
I don't think there is anyone better placed to have received his artist of the decade award and who I would could Artist of the decade. I feel very privileged to have been there at the start and watch on with nothing but joy and admiration as he continued to soar. He is the dream that all artists look to achieve when they first set out. Really inspiring.
To all artists out there he serves as a great reminder that:
1. It isn't always about how you look
2. Gig gig and gig some more perfect your live performance craft and build your tribe
3. Write good songs that people can relate too
4. Nice guys don't always finish last
5. Love the game
It could happen.
Salute to my artist of the decade Ed Sheeran.