First crossed paths with this guy way back in 2007 when he was after a set at our Remedy Night. 3 Mixtapes, numerous shows across Europe and an album later this guy is still one of the most slept on artists in the UK. Time to wake up people
Joleon Davenue aka JOD aka The Soul Lucian aka The 10th 14th 4th letter aka The Jaffa Cake King (yes he love his Jaffa Cakes) has been making his own brand of Soul Jazz inspired HipHop for sometime now. Mood Muzac as he calls it is an amalgamation of all these genres and his own desires, dreams and destiny. Have a lil listen…
Joleon Davenue Mood Muzac by  musicisremedy
What say you? For me his flow is onpoint, lyrics work (note the Remedy reference in verse 2), the hook is strong and the production is DOPE! Your head bops and the groove is tight!!! Convinced… yay…. nay…? ok check his video for his track "Home Sweet Home"
Come now you can't tell me that ain't dope! regardless of your take on the visual this is a TUNE!!! Its got an ill 90′s HipHop feel, the female vocal is INSANE!!! and Jo blesses the beat perfectly with his tone and flow… as i said TUNE and if in the right hands HIT standard.
Both tracks are taken from his album Mellow Defiance which has been out for a hot minute now and both wouldn't sound out of place on any Jazzy Jeff or DJ Spinna compilation. I strongly recommend you follow the links below and purchase a copy if you like your HipHop soulful and real!
If you want to see him live catch him at Yo Yos Notting Hill Arts Club this Thursday April 1st JOD DAY with a full band playing tracks from his album and new material for 2010. Joining him on stage will also be the awesome vocal talents of Enrico Delves and Chantelle Nandi on backing… BIG LOOK!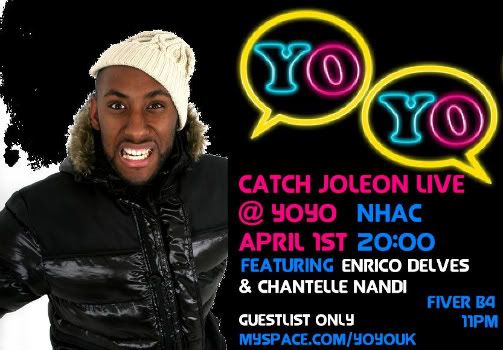 Get to know peoples follow the links….
http://www.joleon.co.uk
http://www.myspace.com/joleondavenue

http://www.twitter.com/joleondavenue